Jean-Marc Nattier
French, 1685 - 1766
Thalia, Muse of Comedy (Silvia Balletti?),
1739, oil on canvas
Mildred Anna Williams Collection

G etting O utahere to O ther I nteresting P laces
First! Please Sign my Dreambook! Read my Dreambook!
Welcome to a
of your own.
Catch the Spirit!

Did you vote today? Have you asked someone else to vote?
Visit other players in The Site Fights. A fun way to sight new sites. Hint: You can vote for as many sites as you like, if you like them -- you just can't vote more than once for one site on each day -- from each individual ISP. If you have accounts on multiple ISP's, darling, I would like you to buy me a Guinness.
Control Music


Thalia, Muse of Comedy. is a member of the Mood Rings WebRing. If you are bipolar or have a webpage that deals with bipolar issues, want to join us?


Surf On:
[ Previous 5 Sites | Skip Previous | Previous | Next | Skip | Next 5 Sites | Random Site | List Sites ]

Bipolar Bear





There are many avatars of Thalia, and She has many Bards. The more the merrier! There are warm hearths to visit at Clan Thalia.




Rodney Dangerfield, online.
Check out Rodney's "No Respect" contest; also the one at the Site Fights.


Would you eat this innocent carrot? Give a hearing to the other side of
Animal Rights activism, at Plants and Vegetable Rights Central.


Kick Granny - More fun than greased ferrets on no-doz!
---
C redit S

Wonderful goddess images taken from

Flagrantly disrespectful adaptations are the sole responsibility of the bard Anitra Freeman.

Many backgrounds used on the contents pages are from Windy's Web Designs.

Background for The Quest of Orzul is one of Max's Fantasy Designs and the background for Self-Help Santa is one of Francy's; go see more. Save America's Vanishing Frompers!

http://w3.one.net/~kklasmei/ has a collection of excellent midis, fully categorized and documented.

For your more specialized midi needs, check out The Bluegrass Midi Page, and America Midi, the Science Fiction Index, and, of course, The Red Dwarf SmegTrek Zone Page.

Rosemart's Midi Collection has been specially developed to loop smoothly for webpage background music.
---

---
CampaignS

Webrings
a guide to my webring pages
The Circle of the Muses is located with my Introduction, on my index page
The Ring of Irony is located on my humor contents page
Moodrings is located on this page
The Site Fights Spirit webring is on my Spirit Page
The Fantasy Ring is located on Thalia's Fantasy Index
and so is The Sci-Fi Book Ring
The Ring of Dragons is located on my Dragon Page
---

---

My Bard's Home Page


StreetWrites - associated bards


Take Another Look at the Contents


Go Back to my Home Page!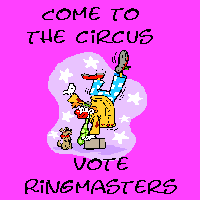 Go see the Site Fight Circus!
---
TRIPOD
Check Out Tripod Great sites, great resources, great communities -- and now 50MB of free webspace!
Click here for the Tripod Popup

Subscribe to tripod email discussion list

Check out the many lists at Egroups.Com
Monday, 23-Dec-2002 21:55:54 EST